It was exciting to find out that this month's theme for the Creative Cookie Exchange was apples, I had made some apple butter a few months back and wanted to use it. The cookies have a nice spiced apple tast to them.
115gm butter
1/2 white sugar
1 cup packed brown sugar
1 egg
2/3 cup apple-butter
13/4 plain flour
11/2 cups quick cooking oats
1teaspoon baking powder
1 teaspoon bicarbonate
1/2 teaspoon ground cinnamon
1/2 teaspoon ground nutmeg
1 cup mixed dried fruit
3/4 chocolate chips
Preheat oven to 190C
In a large bowl, cream together the butter, brown sugar, white sugar, until smooth. Beat in the egg and apple-butter, cinnamon, and nutmeg. Stir the oats, flour, bicarbonate, baking powder, mixed dried fruit and chocolate chips.
Drop spoonful onto your lined baking trays.
Bake for 8-10 minutes or until cooked, let them rest for 5 minutes before removing to a wire rack to cool.
To join in the fun, just complete the steps below:
1. Write a blog post with recipe and original photo (please include some language here specific to that month's theme). We would like the recipe to be one you're making for the first time, and photos must be original.
2. Post the Cookie Exchange badge somewhere on your blog so others can join in the fun: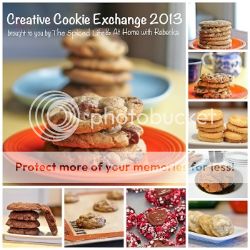 3. Make a good faith effort to visit and comment on the other cookies in the Linky party. We all love cookies so that should be easy!
6. LINK your blog post below using the Linky tool
You can also just use us as a great resource for cookie recipes--be sure to check out our
Facebook page
, our
Pinterest Board
, and our monthly posts. You will be able to find them the first Tuesday after the 15th of each month! Also, if you are looking for inspiration for this month's theme, check out what all of the hosting bloggers have made so far: